Collections
The Duke herbarium is comprised of five specimen collections:
Each specimen collection is associated with a library resource. As of the end of 2009, the herbarium boasts 840,812 accessioned specimens, of which almost half are in the vascular plant collection.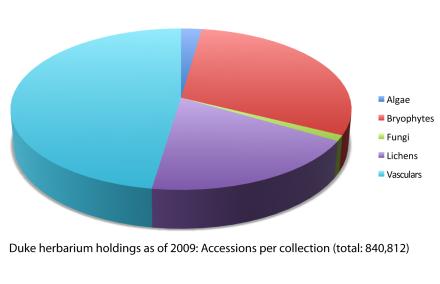 The herbarium is actively growing due to the efforts of Duke scientists and courtesy of gifts from other institutions. From 2005 to 2009 the herbarium added 33941 new specimens to its collections. This ongoing influx of specimen data helps ensure the continued relevance of the collection for a wide spectrum of research needs: from 2005 to 2009 over 280 publications cited DUKE specimen data!